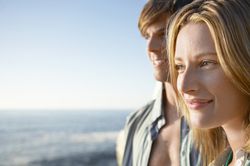 Our Expertise Can Ensure Your Safe and Quick LASIK Recovery
LASIK surgery has become an incredibly popular vision correction procedure in recent years due to its safety and effectiveness. The vast majority of patients enjoy clearer vision without the need for vision aids, allowing them to live free of glasses and contact lenses. To ensure you receive the absolute best possible results and reduce your already low risk of side defects, it is important to choose a reputable care provider. As a highly experienced and professional team,
Maple Eye and Laser Center
can make your LASIK recovery as seamless as possible.
Contact
our White Plains or Manhattan office to learn more about recovery from LASIK and schedule a consultation.
The LASIK Procedure
LASIK is a type of refractive surgery. During the first step, your surgeon will create a small flap in the epithelium, or the outermost layer of the cornea. Next, a laser will be used to reshape the cornea, allowing light to refract properly and create a clear, focused image on the retina. LASIK generally takes less than 15 minutes per eye to complete. Your doctor may provide you with LASIK goggles, or eye shields, to protect the eyes in the days following the procedure. Most patients report great long-term satisfaction and few, if any, side effects.
What to Expect Immediately Following Your Surgery
We will review the details of your LASIK recovery timeline at your consultation, so that you know what to expect in terms of recovery time. After your surgery, a friend or family member should drive you home, since you will likely experience some blurriness immediately after. Once you are in the comfort of your home, it is best to rest your eyes to facilitate healing and reduce any discomfort. Many patients find that when they wake up from a nap (or after a good night's sleep), they see the world with incredible and renewed clarity.
The day after your surgery you will return to our office for a follow-up exam to check your healing is progressing free of complications. Many patients return to everyday activities within a few days, including work, hobbies, errands, or even exercise.
Common Side Effects
In the days following your procedure, it is not unusual to experience some mild to moderate side effects. These typically subside within a few days or weeks. Common side effects include:
Hazy or blurry vision
Halos around sources of light
Itching or burning in the eyes
Dry or irritated eyes
Sensitivity to light
Bloodshot eyes
Tips to Help with Your Recovery
In general, patients should try to rest their eyes as much as possible the first day or so after surgery. Your eyes will also be sensitive to light, so you should wear sunglasses outside. Dry eye is another relatively common side effect, so your doctor may recommend artificial tears to help combat any irritation associated with dryness. Your doctor may also provide you with medicated eyedrops to prevent infection and reduce inflammation.
Many patients choose LASIK in part because they can get back to the activities they love with little down time. Although non-contact sports can be resumed within a few days, patients should refrain from activities that could expose the eye to trauma for at least a month, like basketball or martial arts. Swimming, saunas, steam baths, or other water activities should also be avoided until your doctor provides you with approval. Contaminated water can lead to an eye infection and complicate the healing process. Finally, it is especially important for patients to avoid rubbing their eyes since this can lead to flap complications.
Contact Us Today to Learn More
Our team can help you achieve clear vision with little to no dependence on visual aids. For more information on the LASIK recovery process, contact us today to schedule your consultation.
GET IN TOUCH WITH US
914-948-5157
Mon

day

8:00am - 5:00pm
Tues

day

11:00am - 7:00pm
Wednes

day

8:00am - 5:00pm
Thurs

day

8:00am - 5:00pm
Fri

day

8:00am - 5:00pm
Satur

day

By Appointment Only
Sun

day

Closed
Available for Emergencies
Please contact us if you have a question, or would like to schedule an appointment. We look forward to hearing from you soon.