Our Approach to Cataracts Treatment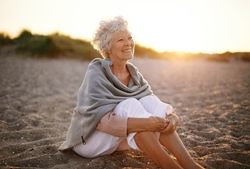 Millions of Americans suffer from cataracts, a common condition which causes the lens of the eye to develop a cloudy area that impairs vision. For patients seeking alternatives to surgery, there are several nonsurgical treatments available that can bring relief to sufferers. At Maple Eye and Laser Center, our skilled doctors offer safe and effective cataracts treatment to patients at our White Plains, NY, location. To learn more about our approach to treating cataracts, contact our friendly staff and schedule a consultation.
Diagnosing Your Condition
A cataract is composed of proteins that occur naturally in the ocular lens. These proteins can begin to gradually clump together. As this collection of proteins grows, a cataract develops and vision becomes increasingly blurry. The only way to remove a cataract is through surgery. If left untreated, this cloudy area will continue to grow and increasingly interfere with vision. During a consultation, the doctor will first review your symptoms to identify their causes and determine if cataracts surgery is right for you. If your vision is not significantly impaired by the condition, the doctor can review several nonsurgical treatment strategies to help maintain your quality of life.
Determining Whether Surgery is Right for You
Although special dilating eyedrops may help to improve your vision, the only cure for cataracts involves surgically removing the lens of the eye. During the procedure, the surgeon will break up and draw out the clouded lens, and then place an artificial intraocular lens (IOL). Cataracts surgery is strongly recommended for patients whose visual impairment puts them at serious risk of injury or accident, such as those who frequently experience glare while driving at night. Typical surgery candidates are those whose daily lives are affected by the condition. Additionally, patients who find it difficult to complete certain routine tasks or distinguish objects and faces clearly may also be recommended for surgery. Your doctor may also recommend surgery if you do not score highly on your vision tests even with the help of visual aids.
Non-surgical Treatment Options
Many patients with mild cataracts can live with the condition for years before their vision is noticeably impaired. For these types of patients, we can recommend several measures to delay the need for surgery. Some patients with less severe cataracts can be treated using strong corrective (magnifying) lenses or anti-glare sunglasses. Other strategies, like increasing the level of lighting in your home, avoiding nighttime driving, or minimizing glare from computer and TV screens, may also help. Sufferers can also incorporate healthy lifestyle habits like quitting tobacco use, exercising regularly, and maintaining good overall health to slow the progression of the disease.
Contact Us to Schedule Your Appointment
If you suffer from poor vision as a result of cataracts, we can work with you to develop a personalized treatment plan that will meet your needs. From diagnosis to treatment to recovery, we use sophisticated technologies to ensure every procedure is safe and effective. Schedule your appointment to learn more about our approach to cataracts treatment.
GET IN TOUCH WITH US
914-948-5157
Mon

day

8:00am - 5:00pm
Tues

day

11:00am - 7:00pm
Wednes

day

8:00am - 5:00pm
Thurs

day

8:00am - 5:00pm
Fri

day

8:00am - 5:00pm
Satur

day

By Appointment Only
Sun

day

Closed
Available for Emergencies
Please contact us if you have a question, or would like to schedule an appointment. We look forward to hearing from you soon.