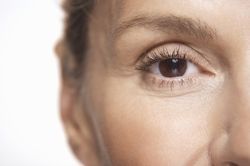 If you are experiencing blurred vision, halos, compromised night vision, or difficulty distinguishing colors, you may be suffering from cataracts, a gradual clouding of the crystalline lens. Our experienced doctors can identify cataract symptoms at our White Plains, NY, office, and provide strategies to help you maintain your vision until surgery becomes necessary. If you are experiencing cataract symptoms, contact our office to schedule a personal consultation with one of our doctors.
Common Symptoms
Cataracts occur when proteins within the crystalline lens of the eye begin to cluster. The crystalline lens lies behind the cornea, and plays an important role in focusing light on the retina. When it becomes obstructed, patients commonly experience:
Blurred vision
Difficulties with night vision
Halos and light sensitivity
Difficulty distinguishing colors
Rapid changes in vision
White spots on the pupil
We can review your symptoms during a one-on-one consultation to develop an effective treatment plan.
Diagnosis
Our skilled doctors are very experienced in diagnosing and treating cataracts. When you arrive for a consultation, doctors may use one of several different tests to reach an accurate diagnosis:
Visual Acuity Test: You will read a series of letters on an eye chart posted 20 feet away to help the doctor detect any significant changes in your vision.
Slit Lamp Exam: Your pupils will be dilated using special eye drops, allowing the doctor to inspect the crystalline lens using a special light.
Glare and Contrast Sensitivity Tests: You will read from an eye chart under different levels of light or contrast. Difficulty reading in certain lighting may be an indication of cataracts.
Ishihara Color Test: This test uses a series of plates with different colored numbers. If you do not pass this test and have not been previously diagnosed with color blindness, you may be suffering from advanced cataracts.
Tonometry Test: The doctor will direct a puff of air toward your eye to measure intraocular pressure (IOP), which helps to detect glaucoma and other similar eye conditions that can increase the risk of developing cataracts.
Additionally, routine yearly eye exams can help doctors identify cataracts during very early stages. While surgery is the only permanent solution for cataracts, we can recommend simple ways to maintain the best possible vision before the condition reaches advanced stages. These include staying current on your corrective eyewear prescription and using ample lighting when reading.
Reducing Risk Factors
While the vast majority of us can expect to develop cataracts as we age, there are several simple lifestyle choices that can help reduce the risk of cataracts, or postpone their development. Studies show smoking can increase your risk of cataracts, and quitting the habit is always advisable. Additionally, minimizing ultraviolet (UV) light exposure with sunglasses can be very beneficial. Be sure to look for lenses with 100-percent UV protection. Meanwhile, addressing health concerns such as diabetes or obesity can reduce your risk of developing cataracts. Regular exercise and a healthy diet can also be beneficial. During a personal consultation, your doctor can review your overall health and make additional recommendations to help prevent cataracts.
GET IN TOUCH WITH US
914-948-5157
Mon

day

8:00am - 5:00pm
Tues

day

11:00am - 7:00pm
Wednes

day

8:00am - 5:00pm
Thurs

day

8:00am - 5:00pm
Fri

day

8:00am - 5:00pm
Satur

day

By Appointment Only
Sun

day

Closed
Available for Emergencies
Please contact us if you have a question, or would like to schedule an appointment. We look forward to hearing from you soon.