Achieve Your Best Vision with Premium IOLs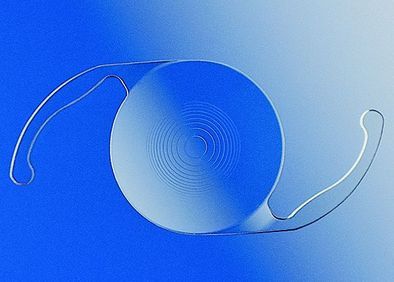 If you suffer from cataracts, intraocular lenses (IOLs) are a trusted way to restore clarity to your vision. These small plastic lenses help focus light on the retina and are used to replace the eye's clouded lens. IOLs feature special haptics, or side struts, to hold the implant securely in place. We proudly offer several kinds of premium IOLs to meet your unique vision and lifestyle needs. Both Drs. Howard Kornstein and Henry Oksman have extensive experience performing cataract surgery using premium IOLs at their White Plains, NY, practice. To find out how premium IOLs can restore your vision,
contact our practice today
.
Traditional vs. Premium IOLs
​Cataract surgery patients can choose between standard and premium IOLs. Standard IOLs are designed to improve distance vision in patients who do not have significant astigmatism. Because standard IOLs can only correct vision at one distance, eye glasses will be needed for reading and other activities that involve seeing clearly close up.
For patients who are interested in a more comprehensive improvement to their vision, there are several premium IOLs that allow patients to see well at near, mid, and long-range distances. A multifocal implant can achieve these results using special designed rings that alternate for near and far distance. These premium lenses can eliminate the need for glasses altogether. Certain patients may also be eligible for an IOL that corrects the effects of astigmatism, allowing you to see clearly for longer distances. Each IOL has its own set of unique advantages, and your doctor will work closely with you to determine which type is best suited to your needs and lifestyle.
The Procedure
Placing an IOL is a relatively quick process, and takes roughly 15 minutes to complete. The first step is the removal of most or all of the diseased lens. This can be accomplished in one of two ways. A special probe can be inserted into the eye through a small incision. Ultrasound waves are emitted to break up the lens into small pieces, which are then suctioned out. This is an advanced technique, also called stitch-less, which involves minimal recovery times. In rare cases, a larger incision and special surgical tools may be used. This method will require sutures and recovery will take slightly longer. The final step is the insertion of the flexible IOL through the incision. Patients should expect to experience blurry vision right after surgery, but as the eye heals over the next few days, vision will quickly improve.
Cost & Financing Options
When IOLs are required as part of cataract surgery, some insurance providers may cover the costs. If the surgery is performed to correct visual errors like presbyopia, it is considered an elective procedure and is not covered by insurance. Typically, standard implants are covered by all insurance companies, including Medicare, whereas premium implants are not. For out-of-pocket costs, our staff will work closely with you to find the CareCredit® plan that best fits your budget. Many patients feel that the financial costs of premium IOLs are well worth the benefits, such as being able to drive and read with greater comfort and confidence. In all, premium IOLs are a worthwhile investment in your quality of life.
Learn More During a Consultation
If you are interested in enjoying clear vision after cataracts, or wish to correct farsightedness without prescription eyewear,
contact
our practice to learn more about our IOL options.
GET IN TOUCH WITH US
914-948-5157
Mon

day

8:00am - 5:00pm
Tues

day

11:00am - 7:00pm
Wednes

day

8:00am - 5:00pm
Thurs

day

8:00am - 5:00pm
Fri

day

8:00am - 5:00pm
Satur

day

By Appointment Only
Sun

day

Closed
Available for Emergencies
Please contact us if you have a question, or would like to schedule an appointment. We look forward to hearing from you soon.